All the way from England!
Oh my goodness! How exciting!
My dear sister-in-law sent me a package from England!
And, just look what was inside!
I am just thrilled to have this Cath Kidston key ring - and look, it matches my big blue house!
My brother in law Bruce said that I should name my blog, "Strawberry Blue" - and look - that is exactly what this key chain looks like!
And, every girl needs a lip gloss, especially one that will make her feel pretty just opening the lid!
Bruce and Martha came to visit us from England several weeks ago. They had a conference in Long Beach, CA - and we were just thrilled to have them stay with us for several days. They are a very fun couple - full of BIG dreams and GOOD words. They are easy to have around. As long as there is sunshine - I think they are happy! And, they cook! The perfect company, if you ask me!
I told Martha that if we ever do go over to England for a visit - I will save up lots of money for the Cath Kidston store! (And, Greengate, too!) She was so sweet to send me these special signature items.
Ok, where are my house keys!
"Honey, will you help me put my keys on this adorable key ring!"
Thank you so much, Dear Martha!
(cuz, Cath Kidston's name is in RED)
(sorry Lil - I don't know how to do a button!)
And,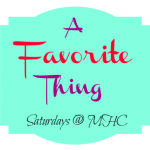 at Mockingbird Hill Cottage!
Thank you, Claudia!